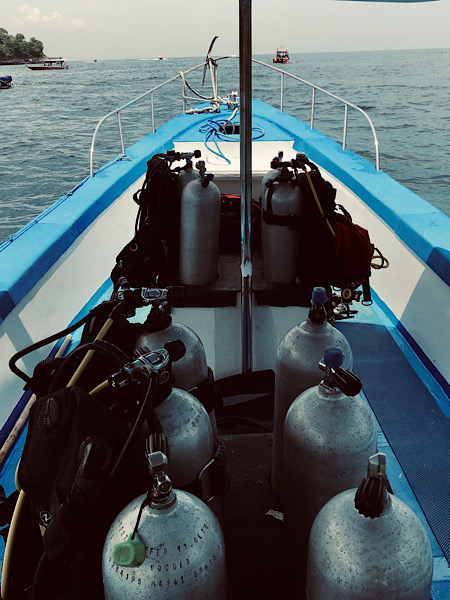 Meeting

Our boat leaves from the shore just 3 minutes walking from the dive center. Depending on the tide, anywhere between 08:00 and 10:30 in the morning.
We ask that our guests arrive 30 minutes early so we can make any last minute gear adjustments.

First Dive

We limit our dive groups to 4 people per guide. On our way to the site, we go through the briefing.
In terms of dive time, we will go either 60 minutes or until the first diver reaches 50 bars. From there, we always do a safety stop.

Surface Interval / Lunch

We spend a minimum of 1 hour on the boat while our guides prepare tea/coffee and provide lunch.
During this time we transfer to the next dive site.

Second Dive

Once again we do a dive briefing. The second dive follows the same procedure as the first dive.

Back to the Dive Center

Once the second dive is finished and everybody is back on the boat, we return to the dive center, wash our equipment and fill logbooks.
Depending on the starting time we will be back around 12:30 pm to 3 pm.
One Fun Dive Trip
One Tank

Dive Guide

Dive Equipment

Pick up Service

Lunch

Coffee, Tea and Water
Two fun Dives Trip
70$
Two Tanks
Dive Guide
Dive Equipment
Pick up Service
Lunch
Coffee, Tea and Water
Three Fun DivesTrip
100$
Three Tanks
Dive Guide
Dive Equipment
Pick up Service
Lunch
Coffee, Tea and Water